29.1.2004 | Rubin E. Grant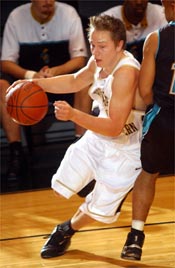 Reykjavik native makes his way with Panthers
By RUBIN E. GRANT
BIRMINGHAM POST-HERALD
Jakob Sigurdarson vaguely remembers when Birmingham-Southern head basketball coach Duane Reboul came to live with his family for a week in Reykjavik, Iceland in the early 1990s.
"I kind of remember it," Sigurdarson said. "I was so young. I was only 10 or 11."Except for the exact year, Reboul has a vivid recollection of the trip.
"It was back in 1992 or 1993," Reboul said. "I received a phone call from a guy with the Iceland Federation of Basketball. He said he wanted to visit some colleges in the United States and he was coming through the South and stopped by Birmingham-Southern. We visited and talked. We were having summer camp during his visit. He was impressed with what we were doing and stayed for two weeks.
"It turned out it was Jakobs father. He invited me to come to Reykjavik to hold a camp. So, I went up and stayed with Jakobs family for a week."
Although Sigurdarson has little memory of Reboul staying with his family, he does remember attending the camp Reboul conducted.
It was different the way he taught than what we were used to in Reykjavik," Sigurdarson said. "There were different drills and new things to learn."
Little did Sigurdarson know that one day he would come to the United States and play for Reboul at Birmingham-Southern.
A 6-foot-4 junior point guard, Sigurdarson has come into his own this season, leading the Panthers in scoring (14.4 points per game) and assists (3.8 per game). He is shooting 46.2 percent from three-point range (36 of 78) and is one of the top free-throw shooters in the nation, sinking 92.0 percent (46 of 50) of his free-throw attempts.
"He is a throwback to yesteryear," Reboul said. "He understands the game and has a feel for how it should be played. He is very cerebral, very poised. He rarely gets emotional.
"He is the consummate player. He can shoot the ball and handle it. He is not flashy or eye-catching, but the purists who watch him play admire his game."
With Sigurdarson leading the way, the Panthers are off to a 10-4 start and are 3-1 in the Big South Conference. He had 12 points and six assists in a 75-61 victory against Charleston Southern on Saturday. Their next game is Jan. 17 at VMI.
"Our goal is to win the conference," Sigurdarson said. "I think we have a pretty good chance of doing that.
"As for me, I think I have been playing pretty good. My goal is to continue playing like I have been doing."
Sigurdarson is one of two Icelandic players on the BSC roster. Reserve forward Helgi Margeirsson, a 6-3 sophomore from Saudarkrokur, Iceland, is the other one. Another player from Iceland, Dori Kristmannson, played for the Panthers from 1996-99.
Although Reboul has been back to the Iceland again since his first visit, he did not expect the country to become fertile recruiting ground for BSC. And he certainly did not expect to Sigurdarson, the son of his Iceland friend Sigurdur Hjorleifsson, to become part of his Iceland Connection.
But during his senior year in high school, Sigurdarson came to the United States as an exchange student, attending Westminster Christian in Ft. Lauderdale, Fla. There was some culture shock.
"It was quite an experience," Sigurdarson said. "I never traveled a lot and it was tough to learn another language. We speak Icelandic back home.
"The culture was a lot different. It took me a couple of months to get adjusted because everything was new. We have the same stuff back home, but here there is so much more and is so much bigger."
Of course, Sigurdarsons dad was concerned about him, so he called Reboul.
"He asked me to keep an eye on him and anything happened to let him know, just like any parent would whose child is in a foreign country," Reboul said.
Reboul called periodically to check on Sigurdarson and discovered that he was a hotshot college basketball prospect.
"I knew he was nice player, but I did not know he was the best player on the team (at Westminster)," Reboul said. "He was being recruited by American University and Gonzaga.
"I called Siggy (Sigurdarsons dad) and asked him why he did not tell me his son was that good of a player. He told him he didn not me because his son was coming back home and was not going to stay in the States; that his mother wanted him back home.
"But as time progressed, Jakob did want to stay. In January or February, he scheduled a few visits to colleges that were interested him. He visited American and was supposed to visit Gonzaga, but Birmingham-Southern was his second visit and he came with his dad."
Sigurdarson canceled the visit to Gonzaga and decided to sign with Birmingham-Southern. His familiarity with Reboul was instrumental in his decision.
"It helped a lot with him being here," Sigurdarson said. "He is a good guy, and I felt the same about the other coaches. So, I decided to come here."
Sigurdarson, 21, said it took him his entire freshman year to become more accustomed to the English language and college life. He does not really get homesick, although during the holidays, he missed having lamb and smoked ham to eat on Christmas Day.
"That is sort of a tradition at home," he said. "This year I had turkey on Christmas for the first time."
All of Sigurdarsons siblings play basketball, including his 19-year-old sister Kristin, who plays for the University of Reykjavik.
Basketball, however, is not the No. 1 sport in Iceland. "It is soccer," Sigurdarson said. "Everybody plays soccer. I played soccer for four years and I played basketball. I didn not have time for both, so I had to make a decision which one I wanted to play. I chose basketball because I am from a basketball family."
Sigurdarson started 21 of 27 games his freshman season at BSC and averaged 9.8 points. As a sophomore he started in 27 of 28 games, averaging 12.3 points and leading the Panthers in three-pointers made (68) and three-point field goal percentage (40.5).
This season, he established a career high in points with 29 in an 83-75 victory against Robert Morris on Dec. 6, but it is his steady play at point guard that has been invaluable to the Panthers.
"He has great court awareness and knows who should have the ball," Reboul said. "He rarely makes mistakes."
Sigurdarson said that is just part of maturing as a player.
"I have more responsibility," he said. "The team depends on me more. I have to play a good game and be a leader because I am one of the older guys. In previous years, I followed the example of the seniors and juniors, and now I am one of those guys and guys are following my example."